I figured I would let everyone else do the blogging about the iPhone 3G coming to Canada and all the Rogers hate going around so I'll pick up my iPhone chatter while continuing my girlie series.
I've been getting a lot of funny looks with my bedazzled iPhone, wrapped in a case I bought for a laugh at Bellis Fair a few months ago. I had a really cool pink silicone cover but I thought I would try out a hard case for a change. With the new Apple store in town and the iPhone officially coming to Canada I thought I would look around a bit more at case options (even though most of these are only available for purchase online).
– Starting off with a bang, there's the Louis Vuitton luxury iPhone case:

(from The Unofficial Apple Weblog)
– There are also hand-stitched leather cases with screen protectors (something other cases omit):
(from Orbino)
Both of these cases (above) are featured as being one of the Top 10 Luxury iPhone Cases. Cases featured on that list range from $35 – $20,000 in price. Yeowsa!
– Via GeekSugar, there's the Bond Street iPhone holster:

(from MyIncipio)
– There are printed designs like the Cherry Blossom case as seen on somagirls.tv:
– Not to be outdone by Louis, Juicy Couture offers up a fancy pink leather case as well: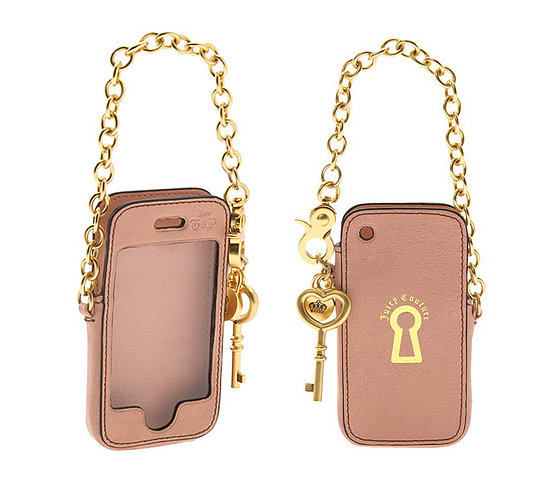 (from ShinyShiny.tv)
– For something a little more plain, from Apple itself the Agent 18 Eco Shield:
– Lastly, Gizmodo calls this the "worst iPhone case ever" due in part to its "lady mirror" on the inside:
I admit a "lady mirror" isn't really something I was looking for in a case. Honestly out of all the ones I mentioned above, the one by Apple seems the most appealing as I don't really need something for my iPhone that could double as a carry bag for a snack dog.
I think Dave's wood case is pretty darn sharp and I have recently switched back to my pink silicone from John Biehler. However, now that the iPhone will be here in just over a week I'm wondering where I'll be able to find a sleek, functional and affordable case. I'm sure they will become more available around town and since the Rogers offers are so atrocious that might just leave more cases on the shelves for me to browse.