This fall at Monster Jam in Vancouver, world champion athletes and their 12,000-pound monster trucks will tear up the dirt in wide-open competitions of speed and skill. You can enter to win a family pack of tickets to this action-packed motorsports experience happening at the Pacific Coliseum in October.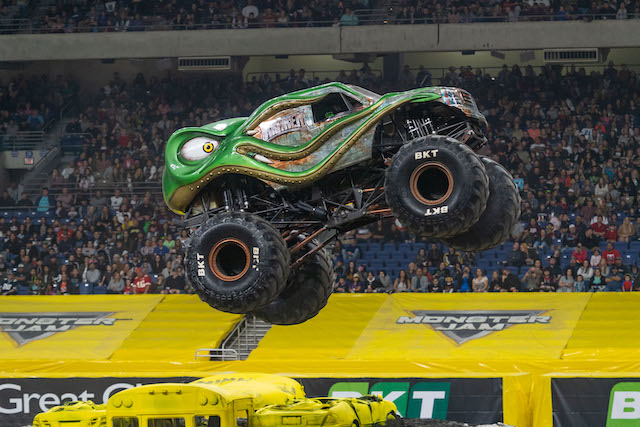 Monster Jam in Vancouver
When:

Friday, October 6, 2023 at 7:00pm

Saturday, October 7, 2023 1:00pm & 7:00pm with Pit Party 10:30am to 12:00pm (event ticket and Pit Pass required)

Sunday, October 8, 2023 at 1:00pm with Pit Party 10:30am to 12:00pm (event ticket and Pit Pass required)

Where: Pacific Coliseum at the PNE (2901 E Hastings, Vancouver)
Tickets: Available online now from $20.00 – $87.00 (plus fees, subject to change)
Monster Jam drivers are trained, world-class male and female athletes who have mastered not only the physical strength and mental stamina needed to compete, but the vital dexterity to control 12,000-pound machines capable of doing backflips, vertical two-wheel skills and racing at speeds up to 70 miles-per-hour to produce jaw-dropping, live motorsports action seen around the world. Monster Jam. As Big As It Gets!™
The excitement begins at the Monster Jam Pit Party fan experience prior to the Saturday and Sunday events. Fans can see the massive trucks up close, meet their favorite drivers and crews, get autographs, take pictures and enjoy other family-friendly activities. This fun-filled experience is the only place that allows people to get up close access to the Monster Jam teams and get an insider's look at how these trucks are built to stand up to the competition.
Canada motorsports fans will be on the edge of their seats as world-class drivers show off crazy skills and all-out racing in fierce head-to-head battles for the Event Championship. Engineered to perfection, the 12,000-pound Monster Jam trucks push all limits in Freestyle, Skills and Racing competitions.
Enter to win
I have a family four-pack of tickets to give away to the Friday night event. Here's how you can enter to win:
Monster Jam Vancouver Giveaway