Continuing the latest tradition in my family, the holiday shopping season starts with our first visit to The Christmas Store at Potters in Surrey. We get cards, ornaments, decor, soup and barbecue sauce (yep!) all from the largest store of its kind in Western Canada. Potters is 28,000 sq ft of holiday cheer making it much more than a store, it's an attraction all on its own.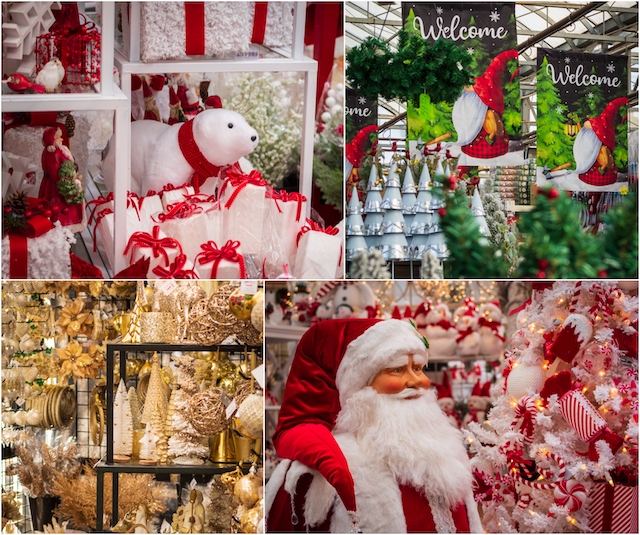 The Christmas Store at Potters
Where: 19158 48th Ave, Surrey
When: Open daily through December 24. Monday, Tuesday, Saturday, Sunday from 9:00am to 6:00pm and open until 7:00pm Wednesday, Thursday, Friday
As in years past, Potters Nursery has been transformed from a full-service garden centre into a 28,000-square-foot festive wonderland. It boasts an impressive inventory of thousands of unique hand-picked ornaments, designer trees and collectibles, stocking stuffers, food items and much more.
You'll recognize how special the store is from the moment you walk through the door. From floor to ceiling and around every corner, there's something magical to be seen. It all starts with the Merry & Bright, Red & White front entrance display, which greets guests with thousands of glimmering red and white ornaments.
Stunning themed trees include the brand-new Paris Tree, all in black and white, adorned with sparkling Eiffel Tower ornaments. This year, there are more than 30 decorated trees throughout the store, decked out in various themes, including candy, gingerbread characters, and even gnomes!
Venture into the 3,000-square-foot Dark Room, illuminated by more than 75 different Christmas-themed canvas paintings and over 60 different Christmas-themed water lanterns.
MouseTown, an automated village run by tiny mice, was introduced last year and proved such a big hit that the Potters team has completely redesigned and rebuilt it even larger this year. It's now action-packed with ski lifts, cable cars and all sorts of moving components that kids of all ages are sure to love.
Enter to Win
Once again, this year I have a $100 gift card up for grabs! Here's how you can enter to win, and amp up your holiday shopping:
The Christmas Store at Potters
New This Year
Also new this year, Potters is offering a huge selection of beautiful Christmas ornaments from Mexico. The design team flew to Mexico City, then drove for hours to meet a talented family that produces tree ornaments available in an array of colours and textures.
Check off your gift-giving list as you peruse Potters' incredible inventory of toys, jigsaw puzzles, games, Coca-Cola collectibles, over 50 styles of Christmas stockings, and unique items for those hard-to-buy-for adults. Looking for ways to spoil your furry friend? Be sure to stop by Petland, an area filled with pet-themed tree ornaments, cushions and stockings.
Plus, there's the Gourmet Food area, offering thousands of specialty products, including hot chocolate from Montreal's Gourmet Village (available in 41 different colours and flavours); locally-made jellies, syrups, and sauces from Krause Berry Farms, The Preservatory, and Cranberries Naturally; as well as Potters' own Peach and Kentucky Bourbon Sauce.
More more information and inspiration, follow Potters on Instagram.
Follow Miss604Holidays this season for the latest arts and culture activities, attraction and event news »