In April 2020, the city was quiet, shut down. Pink petals rained down like confetti and sat on the sidewalk, untouched. Official Vancouver Cherry Blossom Festival ("VCBF") events were delayed, then cancelled. For 2021, the blossoms are budding and so is the festival, with a reimagined lineup of activities you can do on your own, while we enjoy this collective seasonal experience.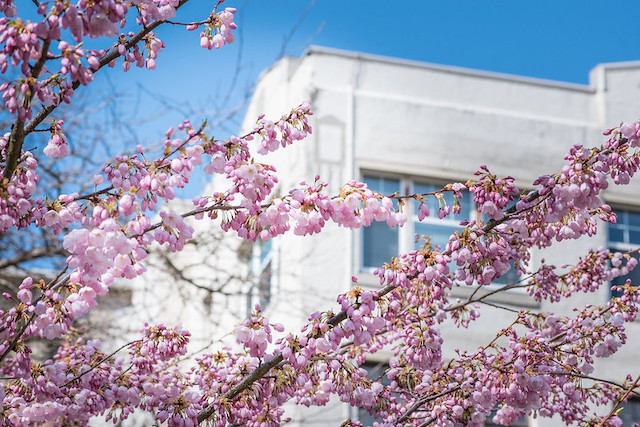 The 15th edition of the VCBF will connect communities and generations with about a dozen free programs to safely engage participants in interactive, social, and artful ways.
Vancouver Cherry Blossom Festival
In partnership with Peacemaker Filmworks, chief drone pilot Patrick Weir will capture Vancouver coming into bloom with a new cinema experience called In Full Bloom. His goal with this short film is to bring the fragile beauty of the cherry blossom into everyone's home, especially those who are housebound or more vulnerable. As of April 26th, viewers everywhere will be able to feel and live this year's cherry blossom experience from their devices and TV screens.
The Festival brings another beautiful new cherry blossom viewing experience with Soundwalk Dance, created by lead artist and artistic producer, Desiree Dunbar, and presented by the Downtown Vancouver Business Improvement Association. Put in your earbuds, awaken your playful inner-child and discover the wisdom and beauty of cherry trees in a whole new way with prompts and music. Elan Dancers will guide you on an embodied journey to enliven all your senses with the vitality of spring.
Submitting your photo experiences with cherry blossoms to the new online virtual BC Blossom Photo Watch presented by TD just got more exciting. Photographers will see their photo coming to life in real time in a virtual Mosaic Photo Collage and be united with all the other cherry blossom fans in the final collage image. Use tags #yesvcbf #VCBFx2021 #TD when posting online.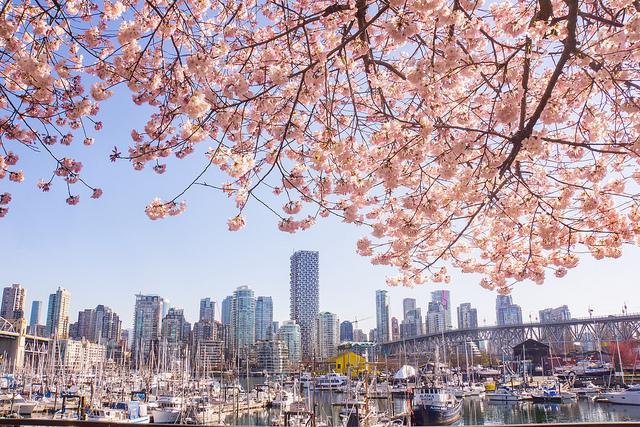 The Dorothy and David Lam Foundation has made it possible for the Vancouver Cherry Blossom Festival to present to elementary students across Metro Vancouver and beyond with the new educational video, BLOOM! This outreach project shares information about cherry blossom culture, the botany of the cherry tree, the VCBF's Vancouver story of sakura, as well as how to write and appreciate haiku.
Leith Wheeler Investment Counsel Ltd. presents the 2020 Haiku Invitational's winning poems in six categories, and many more in the Sakura Award and Honorable Mention categories, to encourage the writing of haiku. The 2021 contest is now open for submissions.
2020 VCBF Haiku Invitational Winners
Vancouver

cherry blossoms fall—
the gentle quake
of baby kicks

Genevieve Wynand
Coquitlam, British Columbia
British Columbia

cherry blossom
after cherry blossom
dawn's slow light

Ulrike E. Narwani
North Saanich, British Columbia
Finally, you can support the VCBF through the virtual fundraiser, Sakura at Home, to be held on April 25th. It will be a very special evening celebrating spring and Vancouver's 43,000 cherry trees, while showcasing a diversity of local restaurants and top chefs who are curating an exclusive seasonal take-out menu especially for this event. Dining will be complimented with curated evening programming and guests will be the first to view the world premiere of the In Full Bloom drone film project. Sakura at Home tickets are limited and available for sale now.
Follow the festival on Facebook for more info.