The 5K Foam Fest in Abbotsford returns June 2nd as a part of a 15 city stop on 365 Sport Inc.'s 2018 national tour. With over 22 obstacles, 2.5 million cubic feet of foam, mucky mud pits, kids' zone, 20-foot 'sky fall' drop, bouncy castles, the world's tallest portable inflatable waterslide, food and drink vendors, and an on-site DJ, everyone can participate in good clean fun.
5K Foam Fest in Abbotsford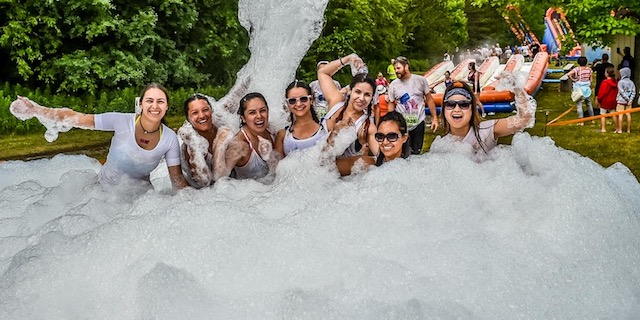 Where: Clearbrook Park / Abbotsford Exhibition Park (32470 Haida Dr)
When: Saturday, June 2nd, 2018
Register: Available online now as an individual or as a team.
This all-ages event is all about having fun. You can walk it, run it, charge it, however you like.
365 Sport is excited to team up with Make-A-Wish® Canada, the official charitable partner for the Canadian 5K Foam Fest Tour in 2018. This partnership is a great opportunity for Canadian families to help others in need. Make-A-Wish will receive all the money raised through participant fundraising and all revenue generated from the Make-A-Wish gear check on the website. Fundraising teams can register online.
Follow the 5K Foam Fest on Twitter and Facebook for more info.