We landed close to midnight, checking into Ottawa's Alt Hotel on Slater Street in the wee hours of our next day of travel. After our time at the front desk, we noticed the Altcetera Cafe was still open so we grabbed some snacks to take upstairs.
The decor in the lobby was contemporary yet down home, with everything from a dining room table reminiscent of family dinners when I was young, to tree stump tables, basket chairs, and metal stools at the bar. It was a colourful mix of modern comforts that made me feel like we were staying in a room above a really hip friend's loft.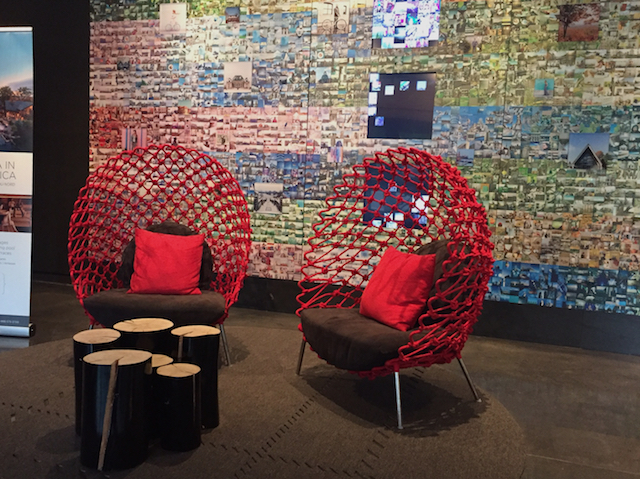 Walking back toward the elevators, past the iMac business workstations and the pool table, the honeycomb chalkboard and mirror wall had the week's events sketched out: Cirque du Soleil, changing of the guard, evening light shows, and Pride. We were in town for a specific reason (to visit the Canadian Museum of History) but we made sure to take advantage of the late August events calendar in the capitol city.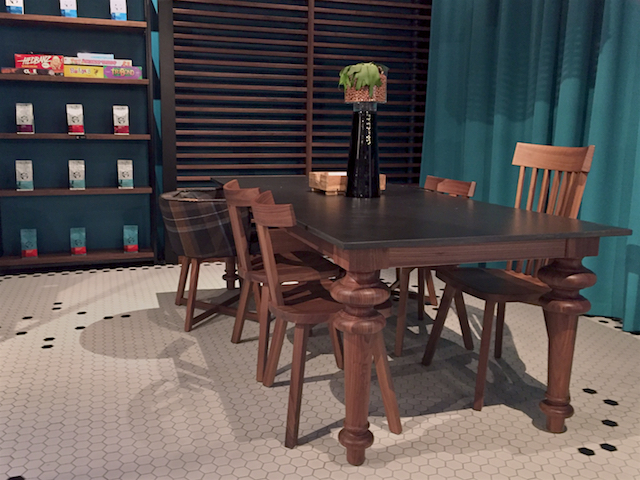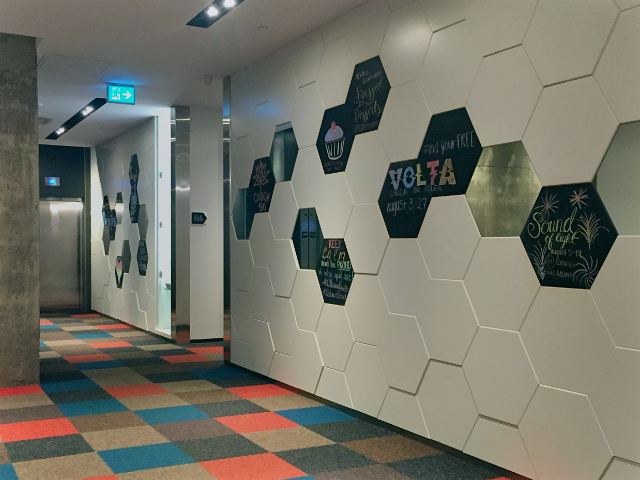 The rooms are all pretty uniform in size, there are 148 in total, 132 have one queen bed (261 sq ft) and 16 have two queen beds (415 sq ft). John remarked that it was laid out like an IKEA designer's dream room. Exposed concrete walls, tall ceilings, and what it lacked in square footage it made up for in functionality.
A closet and a bench for luggage, racks and shelves in the bathroom, a stand-up shower that had a rain shower head but also a lower faucet that came in handy for washing out feet off after walking around the city all day.
While the room was minimalist, it was comfortable, and served its purpose as our home base while we were out for 15 hours a day exploring the fascinating city around us.
Awesome Features of the Alt Hotel
The free Wi-Fi was impeccable. Even though I was on vacation I did check in and do some work in the mornings before we set out for the day. There were efficient LED lights, a main light switch control system (triggered by your room key when entering/exiting), a Keurig coffee maker came in handy one morning but for the others we hopped down to the Altcetera Cafe for breakfast sandwiches and Americanos.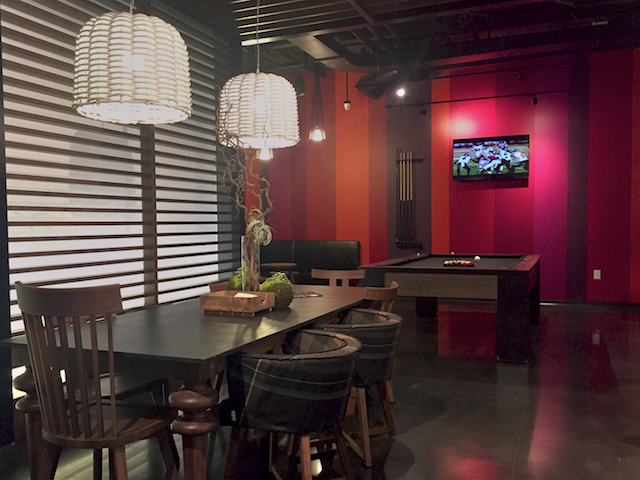 One item of note is that there is little room for privacy, with pull out bathroom doors that close with a 2 inch gap in the middle, and a bathroom wall (in the shower) that is all glass so you can see into the rest of the room while lathering up with shampoo. Having been married 11 years, John and I are close, but if you were splitting a room with a friend you might want to request one of the 16 larger rooms (or separate rooms) when you book your stay.
Our Ottawa itinerary was jam-packed so we didn't have much down time but the Alt Hotel's lobby was just the best. It made you want to host a meeting over coffee, play board games (which are provided), have a drink at the bar, play a round of pool while the soccer game is on TV, or have staff mix up a mean Old Fashioned.
Great for business travelers looking to socialize or just hang out in a comfortable space, or for friends on vacation.
There's also Altexpo, an original photographic installation that covers the first wall you see when you enter the lobby doors. It features the photos of Instagramer Jean-François Frenette as well as other Ottawa Instagrammers. You too can get your photos displayed all around Alt Hotels on TV screens in Toronto, Halifax, Montreal, Winnipeg, and Ottawa when you tag your hotel pics #AltExpo.
The Best Part: Location!
The Alt Hotel has a fantastic location (600 meters from Parliament Hill) and we walked EVERYWHERE. The price just can't be beat for a new, modern, hotel: *$179 or *$199 a night flat rate. Kids under 12 stay free, and it's pet friendly too! There's also no set checkout time.
Follow Alt Hotels on Instagram, Facebook, and Twitter for more information.
Plan your stay and use Booking.com to receive a $40 rebate via Miss604!
*Prices listed are those posted at the time of publishing.