Gravel from the driveway crunched under my tires as the sweet aroma of plum blossoms wafted through my open car window. The ocean breeze tumbled over Crescent Beach and up the Nicomekl River, making boughs dance at Surrey's Historic Stewart Farm. Parking by Stewart Hall, which is currently home to a Canada 150 exhibit, I walked over to the front farmhouse gate.
I cracked open the front door, where the foyer opened up in front of a grand staircase, and I was greeted by friendly faces and even more delicious aromas – this time of cookies and scones, fresh-baked from the stove. It was my first visit to the farm but it felt like I was coming home.
Historic Stewart Farm
John Stewart purchased the farm land on Mud Bay from Samuel Hardy in 1880, after making his way from Scotland to Quebec, then to the Redwood Forests of California to build up his savings. He married Annie Davidson in Nanaimo in 1884 and the couple had two boys, William James and John Massey.
The Stewarts built the house in 1894, and would live and work on the farm, all 600 acres, until the 1920s. It was then in the hands of the Ward family until the City of Surrey purchased the bundle of land and buildings in 1984.
Today, Elgin Heritage Park has are 3km of trails along tidal river wetlands, through forests, and meadows alongside the Historic Stewart Farm, which is free to visit, and open to the public.
After my tour of the house, and a spot of tea with curator Jerrilin Spence, I got a tour of the grounds. Root cellar, gardens, farm stables, and out on the lawn were tables were people were enjoying a late morning picnic. That's where Jerrilin painted a picture of their upcoming Dominion Days Festival for me.
Dominion Days Festival
In the vintage spirit of Historic Stewart Farm and Canada 150, this year you can celebrate July 1 and 2 at the Dominion Days Festival. The two day festival is expected to be the largest, most action-packed event the South Surrey heritage site has held to date.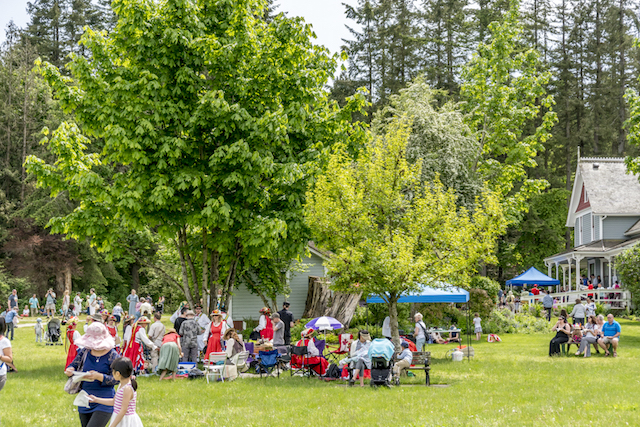 Where: Historic Stewart Farm (13723 Crescent Rd, Surrey)
When: July 1 & 2, 2017 from 11:00am to 7:00pm
Admission: Free! Sponsored by the Friends of the Surrey Museum Society.
Getting There: Free wheelchair accessible shuttle service from Elgin Hall, Crescent Park tennis courts and the South Surrey Recreation and Arts Centre.
Activating the whole site until dusk, organizers have scheduled many family friendly activities:
A Calithumpian noisemaking parade (bring your noisemakers!)
Musicians, dancers and children's entertainers
Food trucks and celebratory cupcakes
Victorian lawn game competitions
A dunk tank, face painting and caricatures
A period costume pioneer selfie station
Guided nature walks through Elgin Heritage Park courtesy of Urban Forestry
The Re-Enactors and much, much more
At Stewart Farm you get to not only learn local history and participate in fun activities, you can take in the picturesque scenery and enjoy the outdoors in this bucolic setting just south of the city.
Follow the farm and Heritage Surrey on Twitter and on Facebook.