June's late night movie series kicked off with Fight Club last Friday at the Rio Theatre with grilled cheese sandwiches, buttery popcorn, beer, and margaritas all available at this East Van movie house.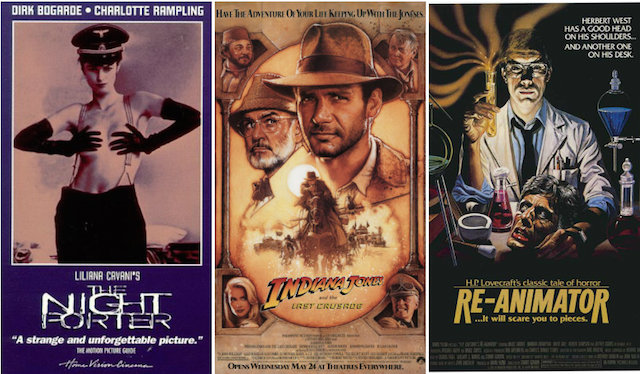 Tickets for the late night series are available online in advance or at the door for just $8 or $6 if you come in costume for the midnight shows. Here are the remaining screenings for June:
Friday Late Night Movies at the Rio Theatre
Friday, June 12, 2015
The Night Porter "Il portiere di notte"
(Liliana Cavani, 1974 / Blu Ray, 118 mins)
After a chance meeting at a hotel in 1957, a Holocaust survivor (the exquisite Charlotte Rampling) and the Nazi officer who tortured her (Dirk Bogarde) resume their sadomasochistic relationship, threatening them both. Upon its release in 1974, Liliana Cavani's The Night Porter was frequently dubbed "the most controversial film of the year!" due to its themes and highly stylized aesthetic. Today, the film remains as polarizing as it continues to divide some over its sense of moral ambiguity while inspiring others with its high charged, fetishistic overtone.
​
Friday, June 19, 2015
Indiana Jones and the Last Crusade
(Steven Spielberg, 1989 / DCP, 127 mins)
Join us for the ultimate big screen movie adventure marathon: Steven Spielberg's monumentally awesome Indiana Jones series. Think Harrison Ford, snakes, whips, numerous Nazis, monkey brains, "dear old dad," and more… all night long. And yes, you read that right: "trilogy." We're pretending that fourth installment never happened. When Dr. Henry Jones Sr. (Sean Connery) suddenly goes missing while pursuing the Holy Grail, his adventurous son Indiana Jones (Harrison Ford) must follow in his father's footsteps to rescue him, and stop the Nazis. Also staring Allison Doody, River Phoenix, John Rhys-Davies, Denholm Elliott.
Friday, June 26, 2015
Re-Animator
(Stuart Gordon, 1985 / 104 mins, Blu Ray)
Loosely based on a short story by author H.P. Lovecraft, Re-Animator is a classic piece of 80s body horror, and a perfectly hilarious cult movie for a Friday Late Night Movie. A dedicated student at a medical college and his girlfriend become involved in bizarre experiments centering around the re-animation of dead tissue when an odd new student arrives on campus. Starring Jeffrey Combs, Barbara Crampton.
Miss604 is a media partner of the Rio's Late Night Movie series.
These 19+ screenings can be complimented with a beverage from the theatre's full service bar as you enjoy a night out with friends. The Rio Theatre is an independent art and movie house located at 1660 West Broadway, at Commercial Drive, and is easily accessible by transit. Follow along on Facebook and Twitter for more film screenings, comedy showcases, and special event information.