This month's offerings for Friday Late Night Movies at the Rio Theatre include Fritz the Cat, James Cameron's Aliens (part of a double feature with Ridley Scott's Alien), Hedwig and the Angry Inch, Zoolander, and Sam Raimi's Army of Darkness.
Tickets are available online in advance or at the door for $8 or $6 if you come in costume for the midnight shows. These 19+ screenings can be complimented with a beverage from the theatre's full service bar as you enjoy a night out with friends.
Friday Late Night Movies at the Rio Theatre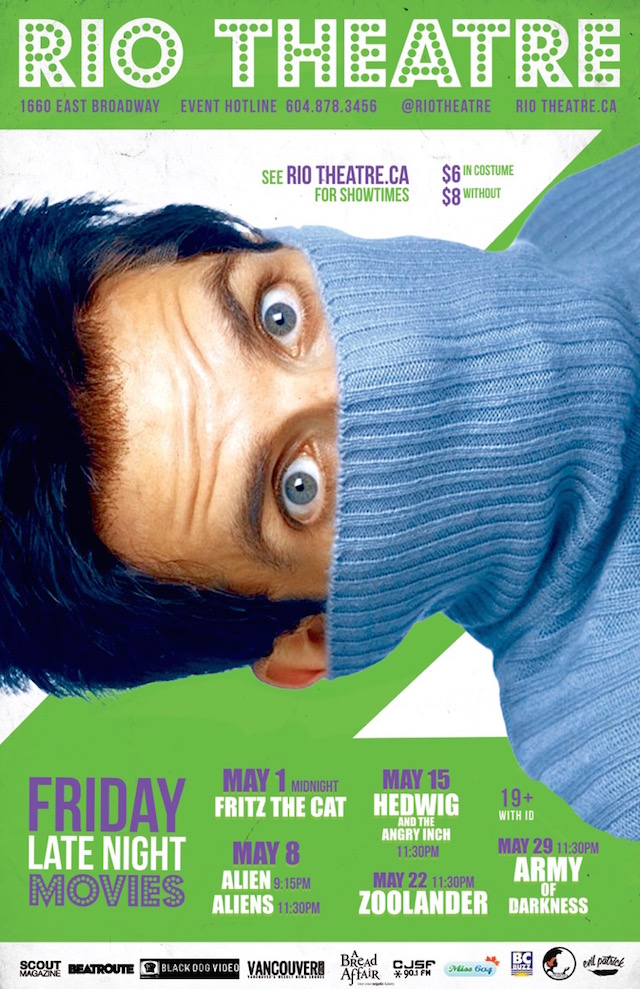 Friday, May 1, 2015
Fritz the Cat
(Ralph Bakshi, 1982)
Based on Robert Crumb's comic strip of the same name, director Ralph Bakshi's Fritz the Cat follows the adventures of a hypocritical swinging college student cat who raises hell in a satiric vision of various elements in a swingin' (and highly sexual) animated version of the universe in the 1960's.
Friday, May 8, 2015
The Alien(s) Double Bill
(1979) & (1986)
As one of – if not the – greatest action heroines to ever hit the silver screen, Sigourney Weaver's unstoppable Ellen Ripley kicks all the asses and takes all the names in both Ridley Scott's Alien (1979) and our Friday Late Night Movie, James Cameron's Aliens (1986).
Friday, May 15, 2015
Hedwig and the Angry Inch
(John Cameron Mitchell, 2001)
John Cameron Mitchell wrote, directed, and stars in Hedwig and the Angry Inch, the cult rock musical about a transsexual punk-rock girl from East Berlin who tours the U.S. with her band while recounting her life story. Also starring Miriam Shore, Andrea Martin.
Friday, May 22, 2015
Zoolander
(Ben Stiller, 2001)
Director Ben Stiller wrote, directed, and starred as the ultimate male model phenom Derek Zoolander in 2001's box office hit. At the end of his career, a clueless fashion model is brainwashed to kill the Prime Minister of Malaysia. Starring Ben Stiller, Owen Wilson, Christine Taylor, Milla Jovovich, Will Ferrell.
Miss604 is a media partner of the Rio's Late Night Movie series.
The Rio Theatre is an independent art and movie house located at 1660 West Broadway, at Commercial Drive, and is easily accessible by transit. Follow along on Facebook and Twitter for more film screenings, comedy showcases, and special event information.