The Rio Theatre is serving up a blend of cult favourites, horror, and 90s essentials for January's Friday Late Night series. These 19+ screenings can be complimented with a beverage from the theatre's full service bar as you enjoy a night out with friends. Tickets are available online in advance or at the door for $8 or $6 if you come in costume for the midnight shows.
Friday Late Night Movies at the Rio Theatre
Friday, January 2, 2015
THE BIG LEBOWSKI
The Coen brothers and their agreeable cast make more fun than sense with this scattered farce about a pothead bowler who is mistaken for a deadbeat philanthropist and drawn into a cluster of kidnapers, nihilists, porn mobsters and Busby Berkeley beauties.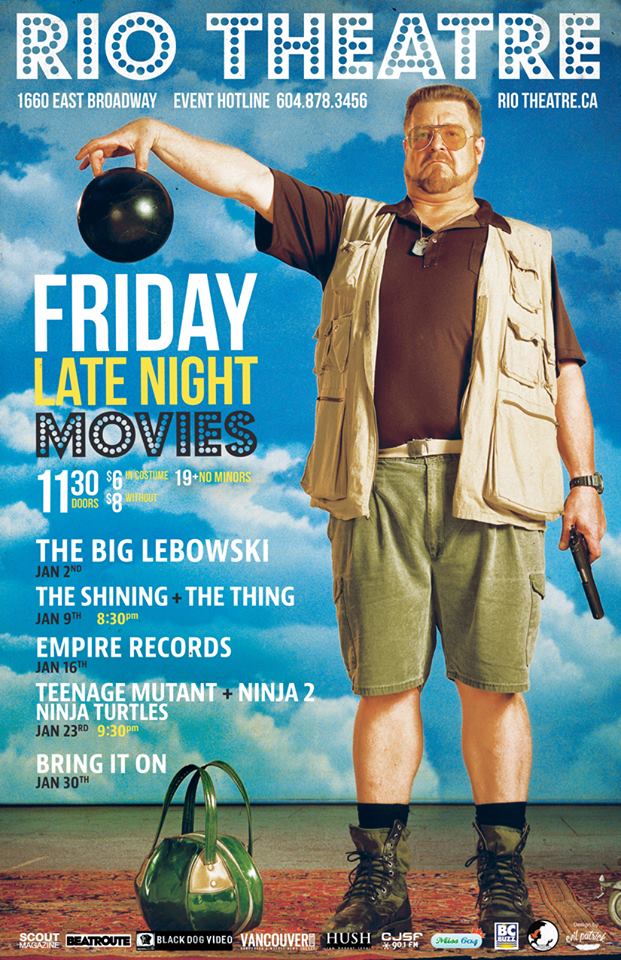 Friday, January 9, 2015
THE THING
Scientists in the Antarctic are confronted by a shape-shifting alien that assumes the appearance of the people that it kills. Double Bill with Stanley Kubrick's The Shining at 9:00pm.
THE SHINING
Based on the novel THE SHINING by Stephen King, Stanley Kubrick's work is regarded as a work of true cinematic genius. Featuring remarkable performances from a solid cast (Jack Nicholson, Shelley Duvall, Danny Lloyd, and Scatman Crothers), THE SHINING is best enjoyed on the big screen. (If you've seen it before then you know what we're talking about, and if you haven't had the big screen treatment yet – you're missing out)
Friday, January 16, 2015
EMPIRE RECORDS
The hilariously adorable 90s cult favourite EMPIRE RECORDS is getting the Friday Late Night Movie treatment on Friday, January 16. Featuring a cast of all-stars (before they were all stars!) including Liv Tyler, Anthony LaPaglia, Renee Zellwegger, Ethan Embry, Robin Tunney, Debi Mazar Rory Cochrane and more in a sweet and funny ensemble film set in one of those independent stores that used to sell something called "records."
Friday, January 23, 2015
TEENAGE MUTANT NINJA TURTLES 1 and 2
Teenage Mutant Ninja Turtles (1990) A quartet of mutated humanoid turtles clash with an uprising criminal gang of ninjas. Teenage Mutant Ninja Turtles II: The Secret of the Ooze (1991) The Turtles and the Shredder battle once again, this time for the last cannister of the ooze that created the Turtles, which Shredder wants to create an army of new mutants.
Friday, January 30, 2015
BRING IT ON
The Toro cheerleading squad from Rancho Carne High School in San Diego has got spirit, spunk, sass and a killer routine that's sure to land them the national championship trophy for the sixth year in a row. But for newly-elected team captain (Kirsten Dunst), the Toros' road to total cheer glory takes a shady turn when she discovers that their perfectly-choreographed routines were in fact stolen. Starring Kirsten Dunst, Eliza Dushku, and Gabrielle Union.
The Rio Theatre is an independent art and movie house located at 1660 West Broadway, at Commercial Drive, and is easily accessible by transit. Follow along on Facebook and Twitter for more film screenings, comedy showcases, and special event information.
Miss604 is a media partner of the Rio's Late Night Movie series.