Announced back in March, the third Vancouver Biennale of Public Art is now in full swing as 20 new pieces join Vancouver's public art landscape. Installed in parks and open spaces, biennale pieces will also be found in New Westminster, North Vancouver, and Squamish.
The curatorial theme of the exhibition is Open Borders / Crossroads Vancouver. Unique in the world for its natural beauty, Vancouver becomes the international hub where artists from all nations, cultural backgrounds, political histories and artistic disciplines gather to celebrate art in public space. Together we inspire creativity, transform thinking and find our interconnectedness as global citizens through art.
To date, 78 artists from 25 countries and 4 continents have participated in the Vancouver Biennale. The new artwork is by globally-recognized figures ranging from Ai Weiwei, Vik Muniz, Andy Goldsworthy to Os Gêmeos, complimenting existing legacy pieces around the city such as A-Maze-Ing Laughter, Echoes, 217.5 Arc x 13′, The Meeting, Jasper, and Walking Figures.
Photogenic new pieces have caught they eye of locals. There's Love Your Beans at Charleson Park, Human Structures at Hinge Park, and Giants on Granville Island, which is the largest public mural ever for the twin artists OSGEMEOS (Gustavo and Otavio Pandolfo) from Brazil. There is currently an indigogo fundraising campaign underway to cover costs of Giants.
Also look for Untitled along Loggers Lane in Squamish, Bird Wrap in Thornton Park, Public Furniture | Urban Trees at Spanish Banks, Minotaur and Hare at VanDusen Botanical Gardens, and Blue Trees coming soon to New Westminster.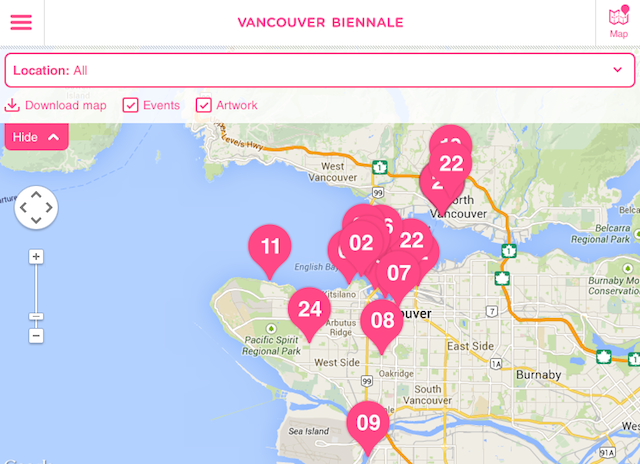 Enjoy a self-guided art tour using the exhibition map and visit the Biennale International Pavillion at 15 Wallace Mews in North Vancouver (near the Lonsdale Quay/SeaBus) daily, except Mondays.
Follow Vancouver Biennale on Facebook and Twitter for updates.