The Rio Theatre is serving up a strong lineup for May featuring some of the most frequently quoted films of our generation. These 19+ screenings can be complimented with a beverage from the theatre's full service bar as you enjoy a night out with friends. Tickets are available online in advance or at the door for $8 or $6 if you come in costume.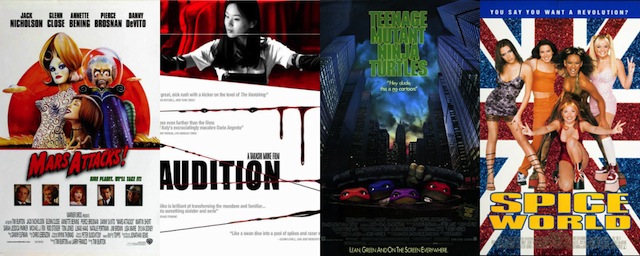 Rio Theatre Friday Late Night Movies
Friday, June 6, 2014
Mars Attacks! (Tim Burton, 1996)
Tim Burton's out-of-this-world alien invasion comedy is a cult-classic that includes hilarious Martians with unbeatable weapons and a cruel sense of humor, as well as a killer cast. Starring Jack Nicholson, Pierce Brosnan, Glenn Close, Natalie Portman, Annette Benning, Danny DeVito, Sarah Jessica Parker, Michael J. Fox, and Tom Jones (as himself). Hosted by Tyler James Nicol.
Friday, June 13, 2014
Audition (Takashi Miike, 1999)
Based on the novel by Ryu Murakami, Audition created waves when it debuted on the festival circuit and has since developed a strong following for its visceral interpretation of the source material; this is a horror film for the not-so-faint of heart. 'A widower takes an offer to screen girls at a special audition, arranged for him by a friend to find him a new wife. The one he fancies is not who she appears to be after all.' Hosted by Little Miss Risk.
Friday, June 20, 2014
Spice World (Bob Spiers, 1997)
I'll tell you what you really really want… Drag queens. | As a general rule, drag queens make everything better. Especially when the drag queens are The Spice Gurls, and they're doing a live shadow cast to the tunes of Spice World. Fresh off their phenomenal tour of Texas, The Spice Gurls finally return to the Rio to bring Spice World to life. Get your platform shoes British accents ready, people. Time to spice up your life! *Tickets $12 in costume/advance or $15/door
Friday, June 27, 2014
Teenage Mutant Ninja Turtles (Steve Barron, 1990)
Perhaps the best live-action movie about a group of humanoid, mutated, teenaged turtles whose collective proficiency in the martial arts winds up pitting them in a ferocious battle against a criminal gang of Ninjas ever made. Hosted by April O'Peel.
The Rio Theatre is an independent art and movie house located at 1660 West Broadway, at Commercial Drive, and is easily accessible by transit. Follow along on Facebook and Twitter for more film screenings, comedy showcases, and special event information.
Miss604 is a media partner of the Rio's Late Night Movie series.