This month the Rio Theatre is not only hosting their signature late night movie series, but they're presenting blockbuster double-bills on Friday nights. These 19+ screenings can be complimented with a beverage from the theatre's full service bar as you enjoy a night out with friends. Tickets (for late night movies) are available online in advance or at the door for $8 or $6 if you attend in costume unless otherwise stated.
Rio Theatre Friday Late Night Movies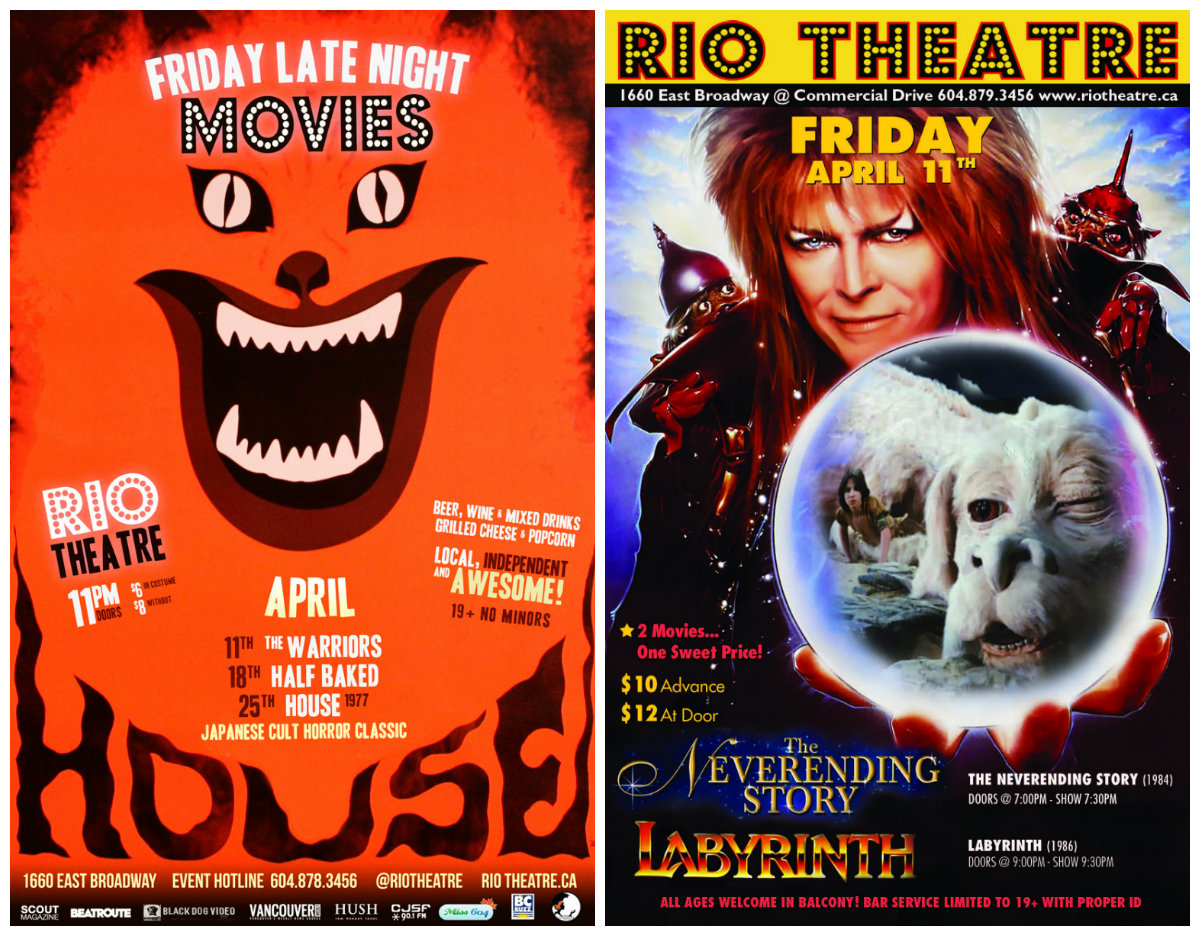 Friday, April 11, 2014
Double Bill: The Neverending Story & Labyrinth
A double bill featuring two of the best puppet-filled 80s children's adventure classics of your dreams (and, possibly, nightmares!). Join us for The Neverending Story at 7:30 pm and Labyrinth at 9:30 pm – all ages and in prime time. See one or both for the same sweet price! $10 advance or $12 at the door. All ages welcome.
Late Night Movie: The Warriors (Walter Hill, 1979)
Back by popular demand is one of our most enduring and popular late night selections, The Warriors. Director Walter Hill's phenomenal cult-classic about New York City teens in a city-wide gang war celebrates the 35th anniversary of its release this year. | In 1979 a charismatic leader summons the street gangs of New York City in a bid to take it over. When he is killed, The Warriors are falsely blamed and now must fight their way home while every other gang is hunting them down to kill them."
Friday, April 18, 2014
Late Night Movie: Half Baked (Tamra Davis, 1998)
Happy 420, y'all. Dave Chapelle co-wrote and stars in the hilarious stoner comedy Half Baked, the story of three not-so-bright men who come up with a series of crazy schemes to get a friend out of jail. Also starring Jim Breuer, Guillermo Diaz and Tommy Chong.
Friday, April 25, 2014
Double Bill: Dune Squared: Jodorowsky's Dune & Dune
It's the Dune double bill you've been waiting for your whole life. Join us for a night of serious science fiction, featuring a double bill of Frank Pavich's critically acclaimed and award-wining documentary Jodorowsky's Dune at 6:45 followed by David Lynch's epic fantasy Dune at 8:30. See both for $12 (advanced) or $15 (door).
Late Night Movie: House ('Hausu', Nobuhiko Ôbayashi, 1977)
Nobuhiko Obayashi's experimental horror/comedy House has experienced a mass revival thanks to a few recent trips around the repertory cinema circuit, and the Rio Theatre is pleased to bring this celluloid oddity to Vancouver. In the film's Criterion liner notes, author Chuck Stephens declares, "This is 'le cinéma du WTF?!.'" In other words, House is best enjoyed late on a Friday night with a theatre full of friends and movie-lovers, enjoying adult beverages and buttery popcorn.
The Rio Theatre is an independent art and movie house located at 1660 West Broadway, at Commercial Drive, and is easily accessible by transit. Follow along on Facebook and Twitter for more film screenings, comedy showcases, and special event information.
Miss604 is a media partner of the Rio's Late Night Movie series.