The Rio Theatre is serving up a mix Band-Aids, cyborg cops, King Arthur, and Klingons which is sure to satisfy any cinephile's appetite, especially late at night on a Friday. These 19+ screenings can be complimented with a beverage from the theatre's full service bar as you enjoy a night out with friends. Tickets are available online in advance or at the door for $8 or $6 if you attend in costume.
Rio Theatre Friday Late Night Movies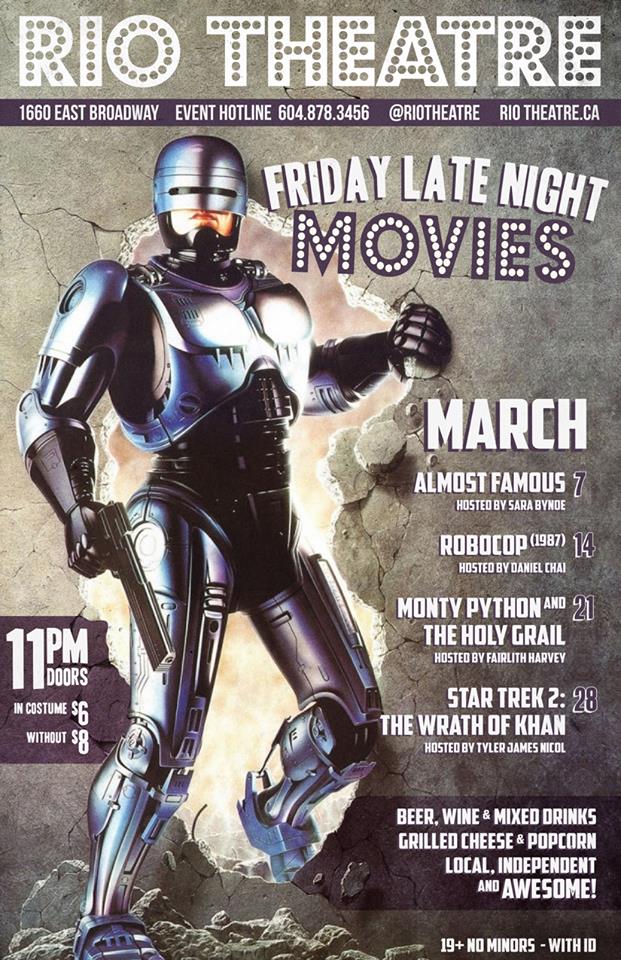 Friday, March 7, 2014
Almost Famous (Cameron Crowe, 2000)
"The only true currency in this bankrupt world is what we share with someone else when we're uncool."
Director Cameron Crowe's sweet, witty, and funny coming of age film about a teenager (Patrick Fugit) who goes on tour with an up-and-coming rock band named Stillwater in order to write a cover story for Rolling Stone magazine features an all-star cast and killer soundtrack. Set in the sex, drugs, and rock 'n roll heyday of the 1970s, Almost Famous is a semi-autobiographical take on Crowe's own fabled experience as a teenaged music journalist. Starring Kate Hudson (in a breakout performance that won her an Academy Award nomination), Billy Crudup, Frances McDormand, Jason Lee, Zooey Deschanel, Jimmy Fallon, Anna Paquin, and Philip Seymour Hoffman. Hosted by Sara Bynoe.
Friday, March 14, 2014
Robocop (Paul Verhoeven, 1987)
Part man. Part machine. All cop. The future of law enforcement.
In the wake of the 2014 reboot of this classic 80s action blockbuster, we thought the time was right to bring the original back to our big screen. Set In a dystopic and crime-ridden Detroit, Robocop tells the story of a terminally wounded cop (Peter Weller) who returns to the force as a powerful cyborg who is haunted by submerged memories. Also starring Nancy Allen, Ronny Cox. Hosted by Daniel Chai.
Friday, March 21, 2014
Monty Python and the Holy Grail (Terry Gilliam and Terry Jones, 1975)
And now! At Last! Another film completely different from some of the other films which aren't quite the same as this one is.
Monty Python sets the cinema back 900 years in a hilarious, satirical (and musical!) take on King Arthur and his knights embarking on a low-budget search for the Holy Grail. Of course, being Monty Python, the crusaders encounter numerous silly obstacles and memorable characters (killer bunnies) along the way. Starring Graham Chapman, John Cleese, Eric Idle, Michael Palin, Terry Gilliam and Terry Jones.
Friday, March 28, 2014
Star Trek II: The Wrath of Khan (Nicholas Meyer, 1982)
At the end of the universe lies the beginning of vengeance.
Among both die-hard Trekkies and discerning cinephiles (the two are not mutually exclusive), The Wrath of Khan sits at the top of the list as not just the best Star Trek movie ever produced, but maybe even as one of the best science fiction films ever made. Co-written by Star Trek creator Gene Rodenberry, the film features the original Enterprise crew (William Shatner, Leonard Nimoy, DeForest Kelly, James Doohan, George Takei, Walter Koenig, Nichelle Nichols) and memorable turns from Kirstie Alley and Ricardo Mantalban (as "KHAAANNN!").
The Rio Theatre is an independent art and movie house located at 1660 West Broadway, at Commercial Drive, and is easily accessible by transit. Follow along on Facebook and Twitter for more film screenings, comedy showcases, and special event information.
Miss604 is a media partner of the Rio's Late Night Movie series.