The Rio Theatre is serving up a mix of romantic hits and fan favourites as this month's Friday Late Night Movies. These 19+ screenings can be complimented with a beverage from the theatre's full service bar as you enjoy a night out with friends. Tickets are available online in advance or at the door for $8 or $6 if you come in costume.
Rio Theatre Friday Late Night Movies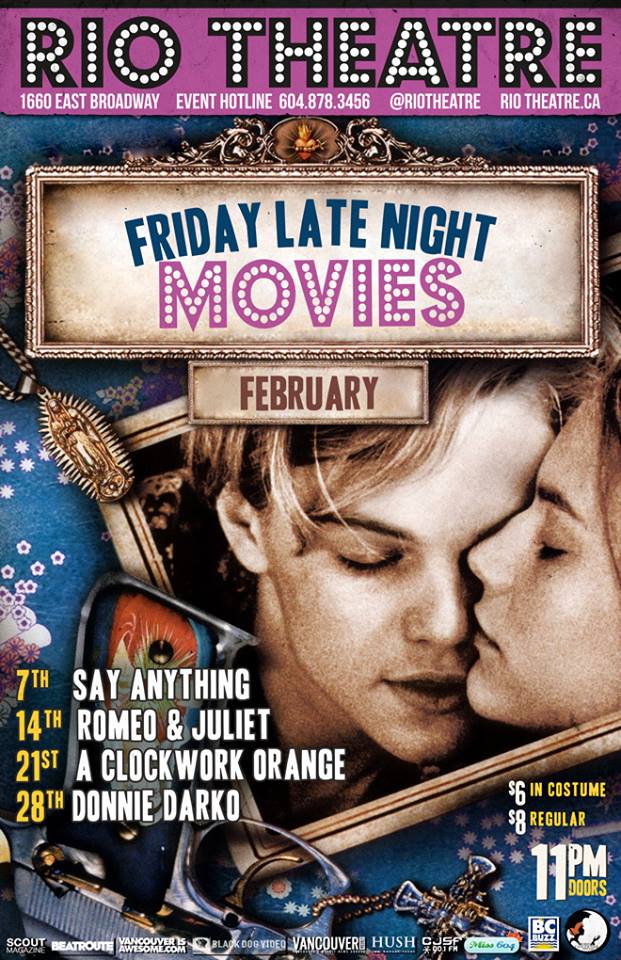 February 7, 2014
Say Anything…
(Cameron Crowe, 1989)
John Cusack's iconic performance as the boombox-toting kickboxer Lloyd Dobler, who falls in love with "a brain trapped in the body of a game show hostess" (Ione Skye) in director Cameron Crowe's Say Anything…, is, arguably, one of the best teen films to come out of the 1980s. It also happens to be one of our most requested films and the perfect movie to kick off February's Friday Late Night Movie series. Also starring Lili Taylor, Jeremy Piven, John Mahoney, and Peter Gabriel's ultra-romantic love song, In Your Eyes.
February 14, 2014
Romeo + Juliet (Baz Luhrmann, 1996)
Baz Luhrmann's dizzyingly kinetic and thoroughly modern re-telling of William Shakespeare's revered tragedy about two star-crossed young lovers (Leonardo DiCaprio, Claire Danes) is a must-see on the big screen and the perfect late night Valentine's Day movie. The film is notable not just for its all-star cast (John Leguizamo, Paul Sorvino, Paul Rudd, Brian Dennehy, Harold Perrineau, Pete Postlethwaite, and many more) and its killer soundtrack (featuring songs by The Cardigans, Radiohead and Garbage) but because it manages to remain loyal to The Bard's original, beautiful text. (Although… it doesn't end well.)
February 21, 2014
A Clockwork Orange (Stanley Kubrick, 1971)
Stanley Kubrick's ultra-violent, ultra-sarcastic, and ultra-visionary film set in a futuristic Britain follows the misadventures of charismatic delinquent Alex DeLarge (Malcolm McDowell), who volunteers for an experimental aversion therapy developed by the government in an effort to solve society's crime problems while he is in prison… but not all goes according to plan. Featuring lots of Beethoven and a truly terrifying take on ocular surgery.
February 28, 2014
Donnie Darko (Richard Kelly, 2001)
Jake Gyllenhaal's career took off after his turn as the titular Donnie Darko, a troubled teen plagued by visions of a large bunny rabbit that manipulates him to commit a series of crimes after narrowly escaping a bizarre accident. Donnie Darko has quietly emerged as a huge cult favorite following its initial release, and features strong supporting performances from an incredible cast including Patrick Swayze, Jena Malone, Drew Barrymore, Mary McDonnell, Maggie Gyllenhaal (playing Darko's sister, of course), Katharine Ross, Seth Rogen, and Noah Wyle.
The Rio Theatre is an independent art and movie house located at 1660 West Broadway, at Commercial Drive, and is easily accessible by transit. Follow along on Facebook and Twitter for more film screenings, comedy showcases, and special event information.
Miss604 is a media partner of the Rio's Late Night Movie series.