The Rio Theatre has released its line-up for Friday Late Night Movies for April along with a cast of local hosts for each event.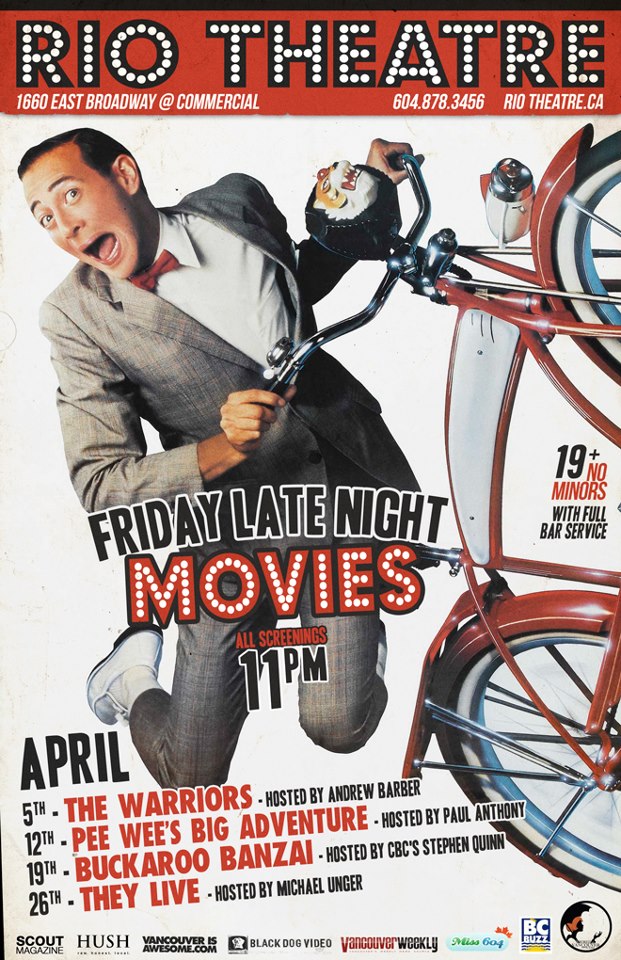 Friday, April 5, 2013 – Hosted by Andrew Barber
The Warriors
Directed by Walter Hill, 1979
"In a future, dystopian New York City, turf gangs and cops rule the streets. When one gang leader tries to bring all gangs together against the cops Coney Island's The Warriors are framed for his murder and the entire city turns on them." The Warriors is back by popular demand! Comedian Andrew Barber, best known as the most anti-Vancouver Boston Bruins fan ever, is set to host.
Friday, April 12, 2013 – Hosted by Paul Anthony
Pee-Wee's Big Adventure
Directed by Tim Burton, 1985
"When eccentric man-child Pee-Wee Herman gets his beloved bike stolen in broad daylight, he sets out across the U.S. on the adventure of his life." This Tim Burton classic has been requested repeatedly by our devoted (and very vocal) patrons, and we're pleased to present it for them. Actor, comedian, and Talent Time host Paul Anthony is on board to host this hilarious crowd-pleaser.
Friday, April 19, 2013 – Hosted by Stephen Quinn
The Adventures of Buckaroo Banzai Across the 8th Dimension
Directed by W.D. Richter, 1984
"Adventurer/surgeon/rock musician Buckaroo Banzai and his band of men, the Hong Kong Cavaliers, take on evil alien invaders from the 8th dimension." CBC Radio's On the Coast host, Stephen Quinn told us enthusiastically, "It's John Lithgow's best performance!" Strong words. See for yourself when this major cult-classic hits the big screen. Can't wait to see the costumes for this one…
Friday, April 26, 2013 – Hosted by Michael Unger
They Live
Directed by John Carpenter, 1988
"A drifter discovers a pair of sunglasses that allow him to wake up to the fact that aliens have taken over the Earth." John Carpenter's classic gets the big screen treatment. Hockey God Michael Unger is back again after a fantastic stint hosting our March screening of Blue Velvet. "Put the glasses on!"
All screenings start at 11:00pm and are for those of legal drinking age — since the Rio now has bar service. Tickets are $8 or just $6 if you arrive in costume. Follow the Rio Theatre on Facebook and Twitter for more special event info, screenings, and film updates.
Miss604.com is a media partner for the Friday Late Night Movie series at the Rio Theatre.