I have written about the Pattullo Bridge at length, well at least I think so as I have numerous posts over the last year on the topic of the Bridge of Death [1][2][3][4][5][6]. The bridge that has caused the death of 21 people since 1990 is being talked about again, as apparently every 6 months people in Metro Vancouver remember about how dangerous it is. It's as though there's a big snooze button at Translink meetings that they keep hitting every time the Pattullo is mentioned.
TransLink is hiring a consultant to study the span, and figure out if it should be twinned, tolled, or torn down and replaced.

Another option is building an entirely new bridge upstream using a man-made island planned for Sapperton Bar. [News1130]
Twinned: Haha oh my, unless they turn it into a pedestrian-only bridge it's not safe for any vehicles or any kind any more.
Tolled: Yes because charging people to die is even better than letting them do it for free.
Torn Down & Replaced: Demolishing the Pattullo entirely – wow I wish I would have thought of that.
Another travel plan that a reader of mine is taking on is the Surrey Bike Initiative.
I've never been much of a cyclist, and I think it's that exact reason that made me do the research and come up with some solutions that, to me, would make cycling a true transportation and recreation option in Surrey.[PaulHillsdon]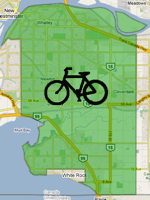 In his detailed plan, elaborated on a website using interactive google maps and images, Paul has outlined the need and practical use for sidepaths, bikepaths, and bike lanes throughout the city. The website and proposed solutions are truly impressive even suggesting that, "if connections were made, could easily become the city's first bike path, connecting Newton, with Bear Creek Park, the BC Parkway, Green Timbers, Tynehead, and Barnston Island." [Solutions]. Paul also compares Surrey's need for such an initiative by stating the facts, clean and simple. Creating alternative means of transportation is also inexpensive and well worthwhile, as Paul goes on to compare the costs incurred by the City of Vancouver when upgrading their cycling networks as well as Metro Vancouver's Central Valley Greenway. [Cycling]
To provide Paul with some feedback, you can comment on his blog post. By the way, did I mention Paul is a high school student in Surrey? Yeah, pretty humbling for me to come across such an in-depth blog about my hometown, makes my WTS segments seem pretty petty, but it's a pleasure to feature his hard work here.